This website was created during a 24 hour website building challenge for non-profits, called Website Thru The Nite. These are the hardworking volunteers that created the Philips Outdoor Center website.
Thank you to the Ball State University CICS students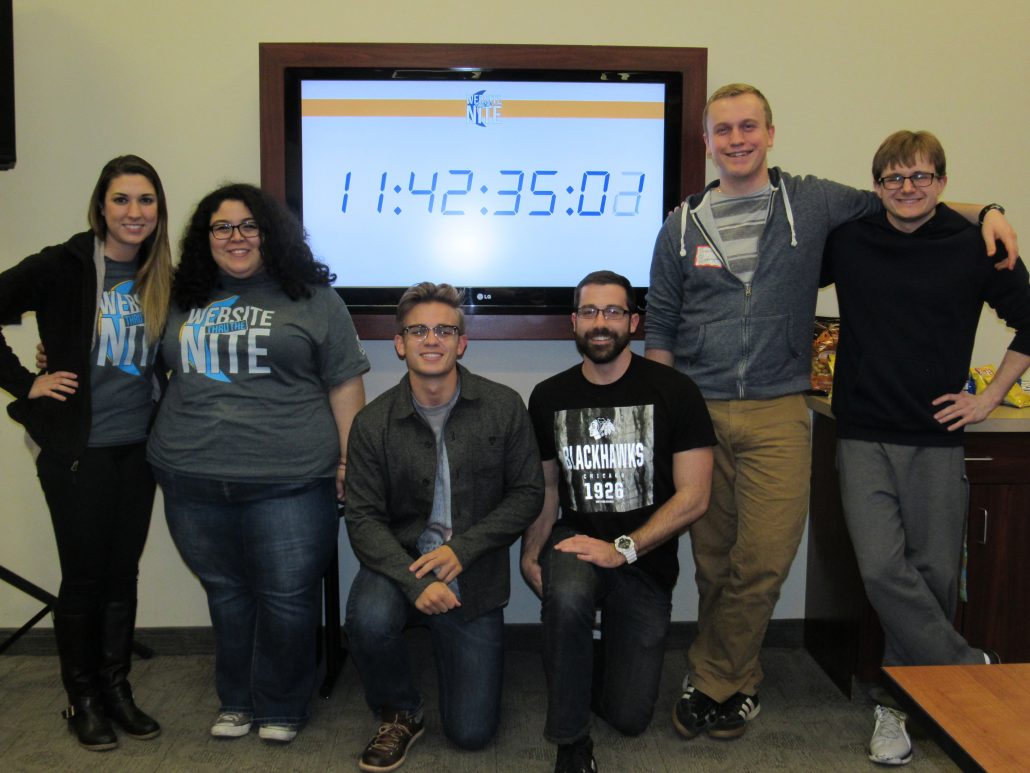 Please get to know our volunteers, we asked them a series of questions.
1.) What is your name?
2.) What is your major or occupation?
3.) What are you most excited about for Website Thru the Nite?
4.) What your favorite pizza toppings?
5.) If you could have any superpower, what would it be and why?
6.) Is there a nonprofit organization that has made a difference in your life? What and why?
7.) If you were stranded on a desert island and you could only bring one thing with you, what would you bring?
8.) Are you a MAC or PC?
9.) If you were stranded on a desert island and you could only eat pizza for the rest of your life, what toppings would you want on it?
10.) If your answer to #9 was different from your answer to #4, why would you lie to us? That hurts. That really hurts.

Volunteers:
1.) Samaria Chicas
2.) Student, Center for Information and Communication Sciences at Ball State University
3.) Helping a non-profit get online
4.) Jalapenos
5.) Telekinesis, because it would be practical and helpful.
6.) Depression and Bipolar Support Alliance because of the information and help they've provided my friends.
7.) A solar powered radio
8.) PC
9.) Jalapenos
10.) 🙂
1.) Katelyn Zehner
2.) Information & Communication Sciences at Ball State University
3.) Helping a nonprofit
4.) Pepperoni, Pineapple
5.) Teleport, so I can travel
6.) I appreciate and am passionate about nonprofits helping animals
7.) My best friend
8.) PC
9.) Green peppers, banana peppers, pineapple, pepperoni, sausage, ham
10.) I added everything I like to #9 so I can have a variety for the rest of my life. 🙂
1.) Brennan Bookmyer
2.) Master of Information and Communication Sciences
3.) Being able to provide a service to a non-profit who may not have the ability to access a resource any other way.
4.) Any meats except anchovies, fish aren't meat.
5.) Mimicry. I could compete in any way at the highest capacity as anyone near me.
6.) Skyview Ranch. I was able to serve there as a program director for a few years and gain valuable time developing as a leader and mentor.
7.) My fiance
8.) PC
9.) Every topping. Then I could pick them off and have whatever I want.
10.) I didn't lie. The two situations are very different and would call for different answers to each question I'm not good at answering loaded questions.
1.) Pavani Pothuraju
2.) Student
3.) Spending 24 hours
4.) Veggies
5.) To fly. I like to be free. (Flying wherever I want.)
6.) Make a Difference (MAD) Indiana
7.) Water Bottle
8.) PC
9.) Veggies
1.) Ryan Schoonover
2.) Information and Communication Services. Grad Student at Ball State.
3.) Helping out a non-profit in need with some friends from school.
4.) Pepperoni, ham, mushrooms
5.) Teleporting. Get to far away and cool places really quickly.
6.) N/A
7.) Case if bottled water
8.) Mac
9.) Pepperoni, ham, mushrooms.
10.) Haha. I win
1.) Jackson Warren
2.) Graduate Student at the Center for the Information and Communication Sciences.
3.) Being able to work with classmates to help better local nonprofits in the Muncie area.
4.) All of them. I usually order a supreme pizza.
5.) The ability to know what others are thinking.
6.) No
7.) A yacht…
8.) I'm a person. However I use a Mac.
9.) Supreme…
10.) I passed.
1.) Dakota Wappes
2.) Graduate Student at the Center for Information and Communications Sciences. I'm also a double major in Communication Studies.
3.) Getting to help at a local nonprofit.
4.) The meats.
5.) None they all have too much responsibility associates.
6.) I've worked with many and they have taught me the importance of community.
7.) A lot of fresh water.
8.) Either
9.) The meats
10.) Ouch.